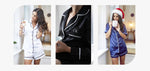 What To Look For When Finding The Perfect Personalised Pyjamas Australia
The perfect pair of PJ's are right around the corner
We spend a third of our life in bed – we want to spend it in comfort (and style!). What we wear to bed is an important part of our quality of sleep, and having a luxurious and personalised pair of pyjamas is a great way to feel like royalty in our own bedroom. If you've been thinking of purchasing your own personalised PJ's, or you've tried to do some research already and felt overwhelmed by all the choices, then this is the list for you.
Finding personalised pyjamas doesn't need to be a daunting mission. Here are five things to look for when finding yourself a new pair of personalised PJ's, to make the process simple, and get you cosy and comfortable, ASAP.
Quality personalised pyjamas
The first and arguably most important consideration when looking for your perfect personalised pyjamas, is finding good quality. When looking for quality sleepwear, have a look at what fabric and weave is used to create them. Satin is a popular choice, soft and silky to the touch. It's wrinkle resistant and non-restrictive, making it perfect to sleep in.
Another increasingly popular option is bamboo sleepwear, a sustainable and healthy alternative to synthetic fabrics which offers a much more environmentally friendly option. Organic bamboo sleepwear like our Hawkesbury Set is the perfect addition to your wardrobe if you're looking for quality eco-friendly fabric in pyjamas.
Whether you decide on bamboo or satin when choosing your personalised sleepwear, you need to know what you're buying is going to be good quality. Check consumer reviews and look at customer photos when you can. Do customers rate the fabric, details, packaging? How was the shopping experience? Were goods delivered quickly?
"After purchasing two sets for Christmas gifts, I had to go back and get one for myself. Couldn't fault them at all! They are incredibly soft and comfortable to wear. Good quality materials that give a lightweight feel. Love them!" says Alisha of her purchase from Maison Life. Real reviews like this can give you an insight in what to expect, especially when shopping online.
Long lasting, versatile pjs
Versatile isn't something you might immediately consider when talking about sleepwear – but it's actually a really important thing to keep in mind. You spend a lot of your life in the bedroom, and especially for the eco-conscious of us, buying a lot of sleepwear just simply isn't sustainable. Making sure your sleepwear is a product that is not only good quality, but also something you can wear often and get a good use out of it, is an important consideration.
Whether this means taking your pyjamas from summer to winter, or even taking them on the road with you, you want to make sure what you buy is something you can use again and again and will be available to you year-round. If you live in warmer climate areas, perhaps a moisture-wicking bamboo fabric material is the right versatile option for you. Or maybe satin long sleeve pyjamas will keep you in the right temperature all year-round.
Versatility cannot be achieved without it also being long-lasting, however. When making sure your pyjamas are made of quality material, durability is important to research.
Sustainability
Owning versatile and long-lasting pyjamas is an eco-friendly choice. A good pair of pyjamas will last you years – so great quality is important. However, finding a sleepwear business that offers sustainability production process is important. Many of us don't want to add to pollution with fast fashion, or maybe you're really aware of using less plastic in your life. Whichever your own personal feelings are, it's important they're reflected in the choices you make in your sleepwear.
Sleepwear sets made out of materials such as bamboo are a fantastic sustainable option. , as a renewable and recyclable source. It uses less water when being made into fabric than its counterpart cotton, yet still with a perfectly soft touch. For those looking to minimse their carbon footprint when choosing personalised pyjamas, bamboo is the perfect choice.
Making it your own
One of the great things that draw people to having personalised pyjamas is making something your very own. It feels luxurious, it feels special, and it feels personal. A great brand of personalised pyjamas will truly make your set feel unique, whether it be your initials or name, long or short, satin or bamboo; whatever you decide, at the end of the day it will be truly yours.
A few things to keep in mind when making sure they're the right pair for you:
- What fonts and styles are available for personalisation?
- What colours and styles are the pyjamas?
- Is this something that matches me and my personality?
Finding  the perfect fit
Let's be real, buying online isn't always an easy and safe bet. Bodies come in all shapes and sizes, and you want quality sleepwear that fits you properly. Ensuring clothing is true to size, look for measurements that are available online that will allow you to find sleepwear that's right for you.
No one wants to be tugging at uncomfortable clothing while they try to sleep – finding the right size and the perfect fit for you is going to allow you a good night's rest. When shopping online, look for businesses that offer a good range of sizes, and offer sizing specification to know exactly what size you are and that you will fit your new purchase perfectly.
Finding personalised pyjamas for your wardrobe should, and can be a fun and exciting experience, and with our list of things to look out for when choosing your perfect pair, it's a lot easier too. Now you too can lay in luxury with your new personalised sleepwear! If you're looking for the perfect personalised pair of pyjamas, you'll find them at Maison Life. Choose from luxury fabrics, personalise your sleepwear and make it your own. A dreamy, personalised sleep experience is just one click away.
Check out our bamboo and satin ranges at maisonlife.com