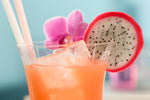 Six easy cocktails for those stay-at-home weekends
With nights out at our fave bars currently on the backburner, why not celebrate with a few time-tested classics in your own home? Sometimes all it takes is the ability to squeeze a few lemons, pour a mixer and add a few signature touches. With some core spirits and decent glassware – you too can become a pro at-home mixologist.

Here are six quick and easy cocktail recipes to perfect while in iso – and impress your friends with on the other side.

THE NEGRONI




Equal parts sweet, bitter, and boozy.

You'll need:
Stir with ice for 20-30 seconds. Strain and garnish with orange peel.

GRAPEFRUIT GIN & TONIC



The perfect go-to summer cocktail, with a twist.

You'll need:
30ml gin
Tonic water (to preference)
Three ruby red grapefruit peel strips plus 2/3 cup fresh juice (from two medium sized grapefruits)
One rosemary sprig (or other preferred garnish)
Place grapefruit peel strips and rosemary sprig in a glass. Muddle mixture until the peels release some liquid, 30 seconds to 1 minute. Add grapefruit juice and gin. Remove and discard the grapefruit peel strips and rosemary sprig. Stir in tonic water. Pour into two ice-filled glasses and add garnish.

THE MANHATTAN




A Manhattan brings the spiciness of rye whiskey balanced by the sweetness of fortified wine vermouth; a great entry level cocktail for those just discovering whiskey.

You'll need:
60ml rye whiskey
30ml sweet vermouth
Two small splashes of bitters
Stir the ingredients with ice, then strain into in a glass. Garnish with an orange twist or brandied cherry.

THE DARK 'N' STORMY




This is a year-round, tasty, highball cocktail. Combining delicious dark rum with spicy, sweet ginger beer and the acidity of a well squeezed lime wedge, it's perfect for almost all occasions.

You'll need:
Fill a glass with ice, add, rum, then top with ginger beer. Squeeze in, then garnish with a lime wedge.

THE CLASSIC MARGARITA




The margarita has stood the test of time by bringing sweetness and acidity into perfect harmony.

You'll need:
Rub a lime wedge over the rim of a rocks glass (or Margarita glass) then twist on a plate of coarse salt so it attaches. Shake the ingredients with ice, then strain into a glass over ice.

APEROL SPRITZ


A timeless classic from the streets of Padua, Italy. Four basic ingredients plus ice.

You'll need:
50ml Aperol
75ml prosecco, cava or champagne
Sparkling water to top up
Olives, or orange to garnish
Mix all ingredients in a glass over ice, and garnish.

APEROL MIMOSA


We've all had an Aperol spritz, but have you tried an Aperol mimosa?

You'll need:
20ml Aperol
20ml orange juice
Prosecco, cava or fchampagne to top up
Pour the Aperol and orange juice into a champagne flute and top with your choice of bubbles.