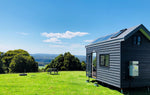 Off the grid – tiny house holidays you'll love
Disconnect, relax and get back to nature.
As most of Australia emerges from isolation, with it comes a whole new world of opportunity – hello lunches, road trips, weekend getaways!
But being around massive groups of people… still hard pass.
Even pre-COVID, tiny houses were starting to gain traction, as 'off the grid' getaways became an emerging trend.
Perfect for escaping the crowds, we've listed some of our top picks for tiny house getaways around Australia below. Every detail in these beautiful tiny cabins is carefully curated, allowing you to slow down, forget the stresses of everyday life and embrace the wild.
UNYOKED 🍂
Luxury tiny houses in Victoria, New South Wales, Queensland and South Australia – in beach, vineyard, rainforest and farm locations.
A few of our favourites:
Tiny House Wal – Pyrenees Mountains, Victoria
Tiny House Remy – Kagaro, Queensland
View the full range at www.unyoked.co


INTO THE WILD 🍂
Luxury short-stay eco off-grid tiny houses two hours' drive from Sydney, Melbourne and Brisbane.
Our top picks:
Tiny House Charlotte – Central Hunter Region, New South Wales
Tiny House Norah – Toowoomba region, Queensland
View the full range at www.in2thewild.co

CABN LIFE 🍂
Relax, rediscover and reconnect with nature with CABN's off-grid and self-contained, sustainable custom designed tiny houses in South Australia, Queensland and Victoria.
You can't go wrong with:
Tiny House Jude – Adelaide, South Australia
Tiny House Arabella – Kangaroo Valley, New South Wales